Top 5 Most popular Casual Mobile games Made In India
India is one of the biggest markets for game developers especially when it comes to Android based mobile games. The Indian mobile games industry is growing at a rapid rate. It is one of the top five countries for mobile gaming in the world. The industry is currently worth over $890 million. It is estimated that the industry will be worth over $3.9 billion by 2025 and have roughly 650 million users. According to the CyberMedia Research (CMR) report that came out in November, mobile gaming increased among three in every five serious gamers, with four hours being the average duration of increase since the Lockdown began in the country.
Scroll on for a list of best Indian casual mobile games.
#1 LOFTY RIDES: Indian Racing Fun
If you want a simple, no-nonsense racing game that doesn't drain your phone's battery life or take up a huge amount of space, Lofty Rides is possibly the most fun pick. Possibly the most detailed Indian racing game on any mobile phone platform out there today, Lofty Rides has real Indian cars and real tuning parts that make it an immersive experience.
Race in various environments: Village, City, Town and more! Even in Night Mode! And it's free!
Download Now – https://play.google.com/store/apps/details?id=com.RiverCanvas.LoftyRides
#2 MARS SURGICAL STRIKE: Indian Army Battlegrounds
If you want to get a feel of what it's like to be an Indian army commander, check out the Mars Surgical Strike. As the name suggests, you will have to lead your army to perform a surgical strike and take the enemies by surprise. It is an endless shooter game. One of the best aspects about this game is that it is an offline game and you have multiple missions to complete. This game boasts easy controls with a simple gameplay, which can be enjoyed offline. This title also provides a good arsenal of weapons, which will definitely help you kill your enemies with ease.
You needn't think twice before downloading this game, it will allow you to have the exhilarating experience of being an Indian Army Soldier.
Download Now – https://play.google.com/store/apps/details?id=com.RiverCanvas.MarsSurgicalStrike
#3 WORLD WAR FRONTLINES: Sikh Wars Chapter 2 (WWF)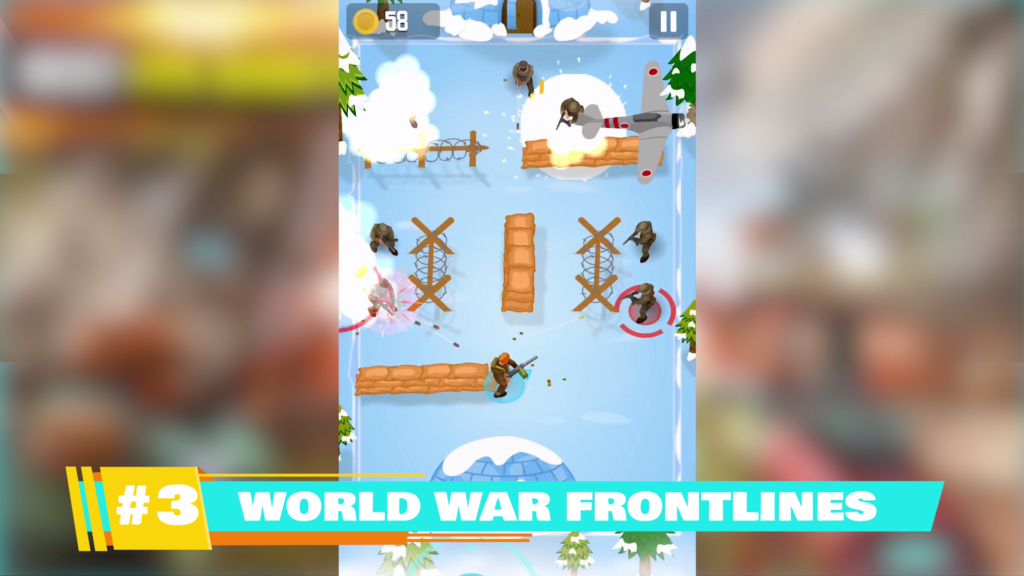 If you love world war games, then this title is for you. It is an Indian real story based army game. WWF is a top-down aerial shooter and a pretty decent one. The game plays like the classics do. It features historically accurate World War II environments from the USSR, Germany, France, Japan, Great Britain, China, the USA, and many other countries. You go level to level taking down opponents, bosses, etc. However, this one has surprisingly good graphics, simple controls, and a survival mission mode for those who like an extra challenge in action games. You will have to ride up to enemy base camps and shoot your enemies with sniper rifles. The game also features a wide variety of maps to choose from along with several game modes such as forest, desert, snow, city, night and much more.
WWF is a top down shooter that keeps it simple, gratuitously violent, and fun. It's full of incredibly detailed artillery platforms and caterpillar tracks for you to drool over before rolling into battle.
Are you ready to take this on in various game modes, maps, features, and find out more about World War Two?
Download Now – https://play.google.com/store/apps/details?id=com.RiverCanvas.WorldWarSikh
#4 BIKE STREET RUSH: India Edition
Bike Street Rush is one of the original endless Bike racing games. Utilising jumps, slides, swipes and tilt mechanics players will have to escape from the traffic officer. Collect coins and buy power ups, and see how far you can run a bullet bike! It's an addictive experience for Android which is often credited as popularising a new genre of mobile gaming focused around high score competition with friends and your own personal bests.
Download link – https://play.google.com/store/apps/details?id=com.RiverCanvas.BultStreetRush
#5 SARAGARHI FORT DEFENSE: Sikh Wars Chap 1
Saragarhi Fort defense is a real Saragarhi story based game for all Indian army lovers. Become a soldier in 36 Sikh regiment and get training from Sardar Ishar Singh. Command your troops and defend the fort against enemy waves. Use your gun shooting skills and destroy all enemies. It is an action shooter game. You have a challenge to defend the saragarhi fort with your unique defensive strategy.
The Battle of Saragarhi was a last-stand battle fought on 12 September 1897 by the Sikh regiment of the Indian army. Led by Faug Havildar Ishar Singh, the 21 sikh soldiers chose to defend the fort to the death, in what is considered as one of the most courageous battles in World military history. This battle is also shown in bollywood movie Kesari, starring action hero Akshay kumar.
Saragarhi Fort Defense is one of the best tactical shooters available, period. A slightly simpler but still tactical experience, this shooter provides players with a surprisingly realistic war scenario.
Download Link – https://play.google.com/store/apps/details?id=com.RiverCanvas.Saragarhi